Nanotechnology ● Theranostics ● Biomedical

Professor Michel Meunier, of the Department of Engineering Physics, is the head of the Laser Processing and Plasmonics Laboratory.
Within its walls, his team is hard at work creating new nanomaterials and biomedical tools for use in theranostics. Their goal: develop nanoparticles useful for both diagnosis (medical imaging and biosensors) and therapy (surgery, treatments).
Nanoparticles at the service of medical imaging 
Professor Meunier's team has developed a new approach to synthesis of gold-silver alloy nanomaterials, with fine control of their composition and size. Because the alloy is biocompatible and the nanomaterials have special optical properties reliant on surface plasmon resonance, they can be used in biomedical imaging. A patent application followed the research. Biology represents a major challenge for these "nano antennas," however, since the cellular environment is complex compared with the controlled laboratory medium.
At the same time, Professor Meunier and his team are working on development of novel medical imaging techniques. For example, Professor Meunier has perfected a technique for detection of cell-surface biomarkers that is cost-efficient and comparatively an improvement over the classic immunofluorescence method: 3D multiplexed immunoplasmonics microscopy. It uses Abs-functionalized plasmonic nanoparticles (fNPs) as "headhunters" to target biomarkers, with reflected light microscopy (RLM) used to detect the biomarkers visually. The technique is compatible with existing imaging systems, which will facilitate its widespread use.
Taking the tech into the operating room
Professor Meunier is also working to make life easier for the people who work to save lives—medical staff working in cancer treatment, drug delivery, and nanosurgery—in a controlled manner. Examples include a tool developed in his lab using laser technology, dubbed the "light nanoscalpel."
It is more than a mere tool; it is hoped that it will evolve into a formidable weapon for physicians. Professor Meunier has demonstrated that it is possible to make incisions in membranes of multiple cells simultaneously. The laser is aimed at functionalized plasmonic nanoparticles that concentrate its light to perforate the membrane.
Recently, Professor Meunier designed a procedure for optimized, controlled design (material, shape and size) of metallic nanoparticles to improve nanosurgery performance.
In 2012, his work was awarded second prize in a competition organized by Québec Science magazine, recognizing landmark discoveries made in Québec during the year.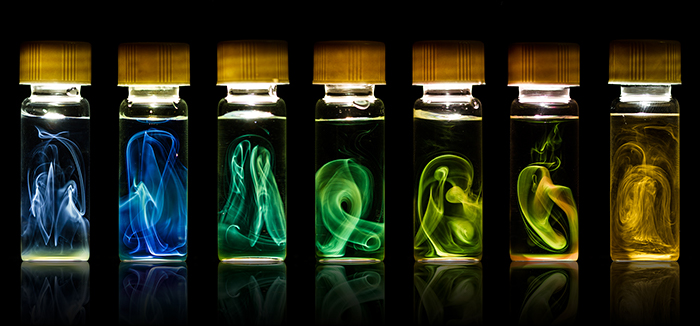 Nanoparticules d'or et d'argent
Photo lauréate du concours La preuve par l'image (ACFAS, 2015)
(c) David Rioux