International Students
International Thematic Clusters in Engineering
International Students
International Thematic Clusters in Engineering
International Thematic Clusters in Engineering
Are you an international student looking for an exchange program at a leading engineering university?
Starting in Autumn 2020, join us and add elite expertise to your engineering education that will help you stand out. Our brand-new engineering courses build on Canada and Polytechnique Montréal's training and research strengths, plus, these new courses will be taught in English.
Become part of our vibrant student community, mix with local students, and have an unforgettable international experience in one of the best student cities in the world!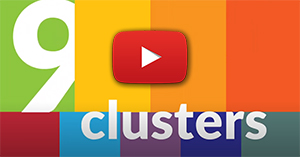 Consult the following documents to learn more
1. ADMISSION REQUIREMENTS FOR ADVANCED SPECIALIZED COURSES
Registered in a recognized engineering degree program in a university where the language of instruction is not French*, and which is a partner institution to Polytechnique Montréal.
Minimum academic average: 2.5/4.
Registered in final years of an engineering degree or currently pursuing graduate studies in a discipline that is related to one of the thematic clusters as described International Thematic Clusters in Engineering brochure(.pdf).
Be officially selected as a candidate by your university/institution's International Relations and/or Exchange Program Coordinators.
Please consult with your university/institution's International Relations and/or Exchange Program Coordinators to determine your specific eligibility.
*If your university/institution's main teaching language is French, you are not eligible for the International Thematic Clusters in Engineering program. Instead, please refer to Polytechnique's admission criteria for Exchange Programs.
2. APPLICATION FOR ADMISSION
Nomination period: January 15 to March 15
Each candidate must be nominated for two International Thematic Clusters.  
Your university/institution must use the following nomination template, complete and send it to this email address: etudiant.echange@polymtl.ca before March 15
Application period: February 1 to April 1
Admission to the International Thematic Clusters program is for the Autumn term only (August to December)
Students who are nominated by their home university/institution will receive a link to submit their application (students submit applications themselves) 
A complete admission dossier must include the following:
Application form (available online; you'll receive a link to access the form once your nomination has been confirmed)
An original transcript of all your engineering studies (with a simple translation if the document is in another language than French or English)
Photocopy of your passport identification page
Photocopy of your birth certificate with both parents' complete names (with an official translation if the document is in another language than French or English)
NOTE: Only use the links sent to you, and not the regular online Polytechnique admission application. Likewise, use the link sent to you to send your required documents (do not send them to the Registrar's Office), nor should you pay fees. Entry into the International Thematic Clusters program is not processed like a regular program admission.
3. COURSE SELECTION
French as a Second Language Courses
Exchange students can sign up for one French language course per semester, taught at the Université de Montréal. In order to do so, Polytechnique students must register through the Inter-University Transfer Authorization application (AEHE) platform (after a placement test). The procedure is described here. Question about the Inter-University application process may be addressed to : horsetablissement@polymtl.ca
For additional information about UdeM's French as a Second Language program courses, click here.
Laboratory Internship
To complete a laboratory internship during your exchange, you must first find a supervisor for your intended project.
Please consult the list of professors' expertise to identify two or three professors working within your field of interest. As a next step, we recommend you send an email to the professor of your choice, introducing yourself, highlighting your achievements, and summarizing the type of project that you'd like to work on with them. Ensure you mention what aspects of the professor's work appeals to you and meets your academic goals, to demonstrate your knowledge of their field and their work. Don't forget to inquire as to whether they're available to supervise you. In response, the professor will let you know if they're interested in working with you, and if not, may refer you to other professors better suited to your interests. 
1 internship credit is equivalent to 45 work hours. Upon conclusion of your internship, you will be required to write a technical internship summary that meets your supervisor's guidelines.
In your admission application, on your list of courses, indicate your intention to complete an internship – either a 6-credit internship (SL06) or a 3-credit internship (SL03), in addition to the other courses you want to complete.
Students must complete the registration form and email it to admission.echanges@polymtl.ca.
What is a credit "worth"?
University credit is a measurement of effort or work, that the student must dedicate to a given academic activity.
At the Undergraduate level (Bachelor's and certificates), a credit represents 45 hours of work that the student must commit to a learning activity, divided over the 15 weeks of a given term. So, a term where a student takes 15 credits represents roughly 45 hours of effort or work, for an average student. The aforementioned hours are comprised of theoretical learning (in class lectures), practical or applied learning (labs or hands-on seminars), and time for independent study or review.
As a general rule, 1 Polytechnique Montréal credit is equivalent to 2 ECTS credits (European Credit Transfer System).
How many courses should I take?
Exchange students must register for a minimum of 12 credits. The normal workload for a Bachelor's-level student at Polytechnique Montréal is 15 credits (which translates to 5 courses per term).
What are the various levels of academic study?
The Bachelor's of Engineering program last four years and grants the earner the title of Certified Engineer from Engineers Canada. 
A Master's at Polytechnique is a graduate-level course of study that is accessible once a Bachelor's degree has been earned. Note that a Master's is not equivalent to a European Master's Degree.
Undergraduate (1er cycle): Bachelors (leads to an Engineering Degree – not equivalent to France's Baccalauréat)
Graduate (2e cycle): Master's (not to be confused with a European Master's Degree) and DESS - Diplôme d'études supérieures spécialisées (in English: Specialized Graduate Diploma)
Graduate (3e cycle): Doctorate
Prerequisites
Polytechnique Montréal does not require that exchange students prove they have the appropriate prerequisites for a given course. To succeed academically during your time here, it's up to you to ensure you have adequate knowledge of and familiarity with course content or material. To determine if you are adequately prepared for a course, you should examine prerequisite course content for your selected International Thematic Cluster.
4. AFTER YOUR EXCHANGE
Official transcript
The international exchange program coordinator at your home institution will be able to download your transcript as soon as it is available on our Alfresco server.

At the end of January, transcripts will be issued for exchange students that began their classes in the autumn term. 

Grades from language courses taken at the Université de Montréal are transmitted to Polytechnique at the end of the semester, and are integrated into your overall Polytechnique transcript. Rest assured that your transcript will be sent as soon as possible.
Extend your stay
Unfortunately, it is not possible to extend the period of your exchange at Polytechnique after your admission. You must choose the duration of your exchange when you submit your application for admission. Please note that if you want to participate in an exchange program for one year, you must apply for the French exchange program.