International Students
Electronic Travel Authorization
International Students
Electronic Travel Authorization
Electronic Travel Authorization
All incomers from countries which do not require to obtain a temporary resident visa (for example, French, Belgium and Italian citizens) must acquire an electronic travel authorization (eTA) in order to take a flight going to Canada. An eTA is not necessary if you arrive in Canada by another transportation mode such as car, bus or boat.
This authorization covers a 5-year period or ends with your passport, whichever event comes first. Thus, the authorization duration is not related to your student status.
If you are wondering if you need a VRT or an eTA, visit the Immigration, Refugees and Citizenship Canada website and select your country/territory of citizenship. American citizens are not asked to get any of these authorizations. However, American permanent residents must acquire an eTA.
* Incomers from countries which request a VRT to enter Canada are invited to consult our dedicated page concerning this matter.
This video shows the different steps in renewing your temporary resident visa and electronic travel authorization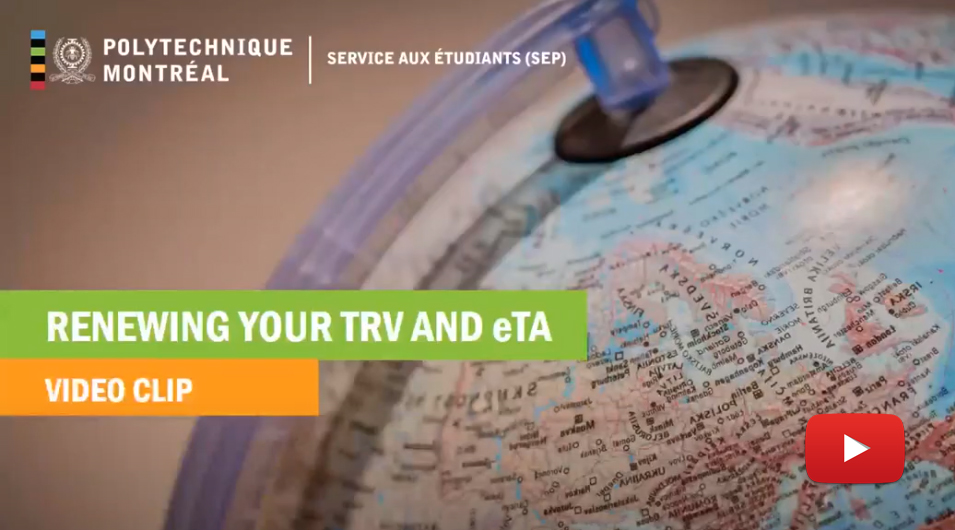 How to request an eTA?
The eTA application must be completed online and paid by credit card. A 7 $ fee will be charged to you for this operation. Approval of this application is generally processed rapidly, but sometimes requires a couple of days. It is thus important to avoid waiting at the last minute to fill out this request.
You do not need to present a separate application for an eTA or to pay additional fees if you renew your study permit in Canada or if you ask for a new study permit in a Canadian Visa Office while you are abroad.  In both cases, the approval of your SP should also include an approval for an eTA.
Hyperlink
Electronic travel authorization - Immigration, Refugees and Citizenship Canada