Desjardins and Polytechnique Montréal join forces for a cybersecurity research program
February 14, 2019
- Source :
NEWS
The guest of honour at Polytechnique Montréal's Rendez-vous socio-économiques de Polytechnique Montréal, Desjardins Group President and Chief Executive Officer Guy Cormier, announced a $1.25 million investment over five years as part of a partnership in cybersecurity and artificial intelligence (AI).
"Cybersecurity has become a strategically important area of activity today, one that draws on our ability to innovate," says Mr. Cormier. "It's in this spirit that Desjardins Group is pooling its expertise with that of stakeholders at the forefront of research in this area. By joining forces with Polytechnique, we will be helping our members and customers, both personal and business, manage their financial affairs in a secure environment. At the same time, we will contribute to strengthening a high-calibre Québec centre of expertise in cybersecurity and artificial intelligence."
This agreement reflects Polytechnique Montréal's commitment to cybersecurity, a priority that is an integral part of its mission, says Philippe A. Tanguy, Chief Executive Officer of Polytechnique Montréal: "Cybersecurity is an essential part of our academic and research programs. This partnership with Desjardins is very timely; new technologies such as 5G mobile connectivity and the growing popularity of the Internet of Things will increase the amount of data in circulation and the potential for malicious intrusions. We need to strengthen and refine defence mechanisms, train top-level experts, and support future cybersecurity entrepreneurs."
José Fernandez, Associate Professor in the Department of Computer Engineering and Software Engineering at Polytechnique Montréal, adds: "Cyberattacks are becoming more sophisticated all the time. Governments, banks, leading companies, and even some well-equipped critical-infrastructure operators have been outsmarted. We are in a perpetual race against cyberattacks. This partnership will give shape to an original, advanced and bold research program that will allow us to apply AI techniques to the fundamental issues of cybersecurity."
Cybersecurity needs are substantial. According to an analysis by Deloitte and the Toronto Financial Services Alliance in 2016, the demand for IT experts in the country is growing by 7% each year, which means that organizations will need to fill approximately 8,000 cybersecurity-professional positions by 2021.
Guy Cormier, President and CEO of Desjardins Group, delivered a conference entitled "Pour un développement économique responsable, durable et humain" (Responsible and Sustainable Development that Puts People First) at the first edition of the Rendez-vous socio-économiques de Polytechnique Montréal (In French).
In this context of growing demand, the partnership between Desjardins and Polytechnique will help speed up detection of security incidents, automate detection and response to incidents, and train a dozen high-level talents at the master's and PhD levels.
Polytechnique Montréal and Desjardins are members of CyberEco and sit on the board of directors of this collective of cybersecurity talent and expertise launched in September 2018. The cybersecurity and IA research projects announced today are in line with this group's objective, which is to make Québec a world leader in this field.
This agreement was made possible thanks to the participation of the Institute for Data Valorisation (IVADO), whose purpose is to bring together industry professionals and academic researchers to develop cutting-edge expertise in data science, optimization (operational research) and artificial intelligence.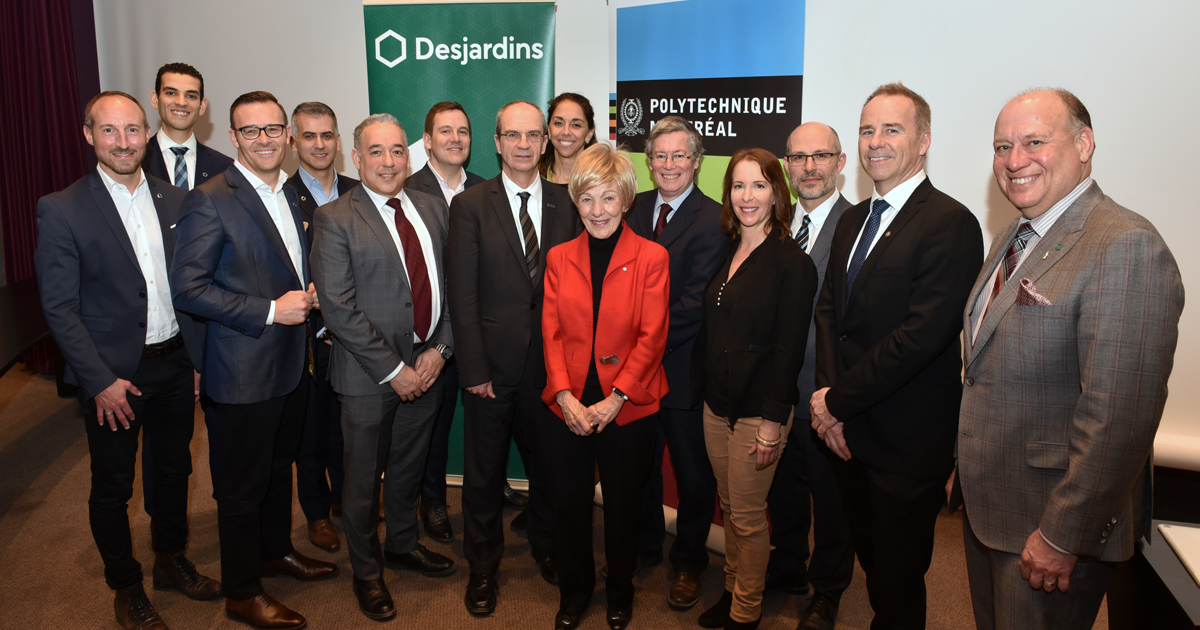 Left to right: Jean-Sébastien Pilon, Director, Information Security Administrative Department at Desjardins Group; Mohamed Haoues, Team Lead, Cybersecurity at Desjardins Group; Guy Cormier, President and Chief Executive Officer at Desjardins Group; Chadi Habib, Executive Vice President, Information Technology at Desjardins Group; José Fernandez, Associate Professor in the Department of Computer Engineering and Software Engineering at Polytechnique Montréal; Nicolas Coulombe, Capacity IT and CISO at Desjardins Group; Philippe A. Tanguy, Chief Executive Officer of Polytechnique Montréal; Isabelle Garon, Vice President, President's Office, Cooperation and Director Support Division at Desjardins Group; Michèle Thibodeau-DeGuire, Principal and Chair of the Board of Directors of Polytechnique Montréal; Gilles Savard, Chief Executive Officer of the Institute for Data Valorisation (IVADO); Suzanne Thibodeau, Manager, Security Governance Department at Desjardins Group; Pierre Langlois, Director of the Department of Computer Engineering and Software Engineering at Polytechnique Montréal; François Bertrand, Deputy Chief Executive Officer and Director of Research and Innovation at Polytechnique Montréal; Michel Cantin, Vice President, Member and Client Services Division, Island of Montreal at Desjardins Group. (Photo: Denis Bernier)  
To Lean more
Expertise profile of Professor José Fernandez
Website of the Department of Computer Engineering and Software Engineering at Polytechnique Montréal (In French)