Ella Thomson is the third recipient of the Order of the White Rose scholarship
Polytechnique Montréal inspires young women engineers in Canada to excellence.
Montréal – Today, Polytechnique Montréal is presenting the third annual Order of the White Rose scholarship to Ella Thomson, an electrical engineering graduate of the University of Manitoba. This $30,000 scholarship, created three years ago, is awarded annually to a Canadian woman engineering student who wishes to continue her engineering studies at the master's or doctoral level in Canada or elsewhere in the world.
Brilliance, creativity, generosity and determination: these are all qualities that describe Ella Thomson, who is headed for a career as a university researcher in electrical engineering and intends to have a positive impact
on society. The recipient of a prestigious Schulich Leader Scholarship, she had an outstanding academic record while studying toward her bachelor's degree in electrical engineering at the University of Manitoba. She has also attracted attention for her research into the role of mitochondrial dysfunction in degenerative diseases, conducted at St. Boniface Hospital Research Centre in Winnipeg, and for which she received funding from the Natural Sciences and Engineering Research Council of Canada.
Ella's desire to conduct research into neurodegenerative disorders was sparked by volunteer work that she did with patients with developmental disabilities, as well as wanting to understand the mechanisms of Alzheimer's disease, with which her great aunt was living. After completing a research exchange at Hochschule Ravensburg-Weingarten in Germany, she will enter the PhD program in biomedical engineering at Stanford University in California. Ella Thomson has not only had academic success; she has demonstrated strong community engagement, as a student representative on various councils and as the founder of a group affiliated with Hope international Canada, which repairs used medical equipment for shipment to developing countries.
"Ella's qualities as a person are just as impressive as our outstanding university career so far," says François Bertrand, Polytechnique Montréal's interim CEO and Chief Research, Innovation and International Officer. "I am sure she will continue to attract attention for her research into degenerative diseases, and she is destined to become a very inspiring teacher for her future students."
For her part, Ms. Thomson says: "I am moved beyond words to be the recipient of this year's Order of the White Rose scholarship, and I thank the selection jury for this great honour. I was lucky to be interested in science at a very young age, and I want to dedicate this award to all the young girls out there who hope to go down that same path, no matter what prejudices may stand in their way. And today I have a special thought for my mother, who teaches kindergarten at a girls' school. She practices science with her students and tells them about the Charter of Rights and Freedoms. She shows them, as she showed me, that a woman can succeed at anything."
Michèle Thibodeau-DeGuire, Polytechnique's Principal and Chair of the Board of Directors, who was also the institution's very first female graduate in civil engineering in 1963, says: "With the career that she has chosen and her profound social engagement, Ella Thomson is among the women who have the power to change our world."
And Nathalie Provost, a Polytechnique graduate who was injured in the 1989 tragedy and is the "Godmother" of the Order of the White Rose: "I am delighted to see a young woman with such talent and promise as Ella Thomson selected for the Order of the White Rose. Ella embodies the dream of so many young women who are dedicated to succeeding in fields that, for so long, have been difficult for us to access. She is showing them that as long as you have determination, anything is possible."
The Order of the White Rose was established to honour the victims of the tragedy of December 6, 1989, at Polytechnique, as part of the activities surrounding the 25th annual commemoration of the event. The scholarship not only recognizes the importance that Polytechnique attaches to women's contributions to engineering, but also, and especially, rewards and encourages a young woman who stands out in that field. As such it represents a model for women attracted to careers in science and technology.
The Order of the White Rose selection jury was chaired by Ms. Thibodeau-DeGuire. Its members included outstanding figures in the Canadian higher education community, namely:
Cristina Amon, Dean, Faculty of Applied Science and Engineering, University of Toronto
Elizabeth Cannon, President and Vice-Chancellor, University of Calgary
Kevin J. Deluzio, Dean, Faculty of Engineering and Applied Science, Queen's University
Patrik Doucet, Dean, Faculty of Engineering, Université de Sherbrooke
Suzanne Fortier, Principal and Vice-Chancellor, McGill University
Joshua Leon, Dean, Faculty of Engineering, Dalhousie University
Thomas Tiedje, Dean Faculty of Engineering, University of Victoria
About Polytechnique Montréal
Founded in 1873, Polytechnique Montréal is one of Canada's largest engineering teaching and research institutions. It is the Québec leader for the scope of its engineering research activities. It is located on the campus of Université de Montréal, the largest French-language university campus in the Americas. With over 47,500 graduates, Polytechnique Montréal has educated nearly one-quarter of the current members of the Ordre des ingénieurs du Québec. The institution offers more than 120 programs. Polytechnique has 260 professors and 8,300 students. It has an annual operating budget of $213 million, including a research budget of $75 million.

Profile and photo of the scholarship recipient available in the media kit from the Polytechnique Montréal online media room.
The Polytechnique Montréal Week of the White Rose continues until December 8. View the news release.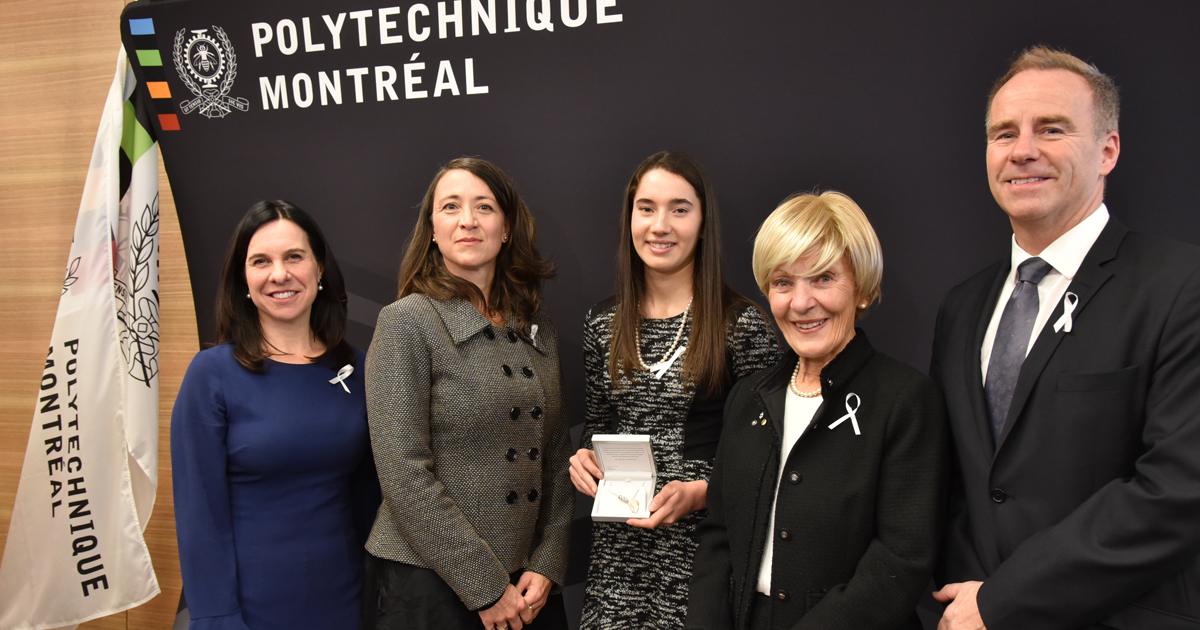 From left to right: Valérie Plante, mayor of Montreal; Nathalie Provost, Polytechnique graduate injured during the 1989 tragedy and ambassador of the Order of the White Rose; Ella Thomson, third recipient of the Order of the White Rose scholarship; Michèle Thibodeau-DeGuire, Principal and Chair of the Polytechnique Board of Directors, and Chair of the Order of the White Rose scholarship selection jury; François Bertrand, interim CEO of Polytechnique Montréal.
Press package
Media contact information
Senior Advisor, Communications and Public Relations