William Sanger, winner of the Relève universitaire competition at the 2014 Montréal FinTech Forum for his data management application
November 21, 2014
- Source :
NEWS
The second edition of the Montréal FinTech Forum was held on October 15, 2014, at the Palais des congrès de Montréal under the theme "Digital Innovation: An Extraordinary Lever for Finance." The Forum's Honorary Chair was Louis Vachon, President and CEO of National Bank, and featured 25 speakers and panellists, networking activities and three competitions for the new generation of university students and entrepreneurs developing applied IT solutions for finance.
This year's Relève universitaire competition was on the topic of data management. William Sanger's winning project is the technical result of his master's degree work, and he has continued to develop it as part of his doctorate, which he began last September at Polytechnique and CIRANO. His work is supervised by Nathalie De Marcellis-Warin, Associate Professor in Polytechnique's Department of Mathematics and Industrial Engineering and Vice-President, Risk and Sustainable Development at CIRANO, and Thierry Warin, Associate Professor in HEC's Department of International Affairs and Vice-President, Strategy and International Economies at CIRANO.
As part of his research work, Mr. Sanger is looking into the application of "big data" within democratic processes. Using the tools he has developed, he is studying, in particular, political activism, electoral surveys and the impact of political discourse through social networks. 
The application he submitted to the competition makes it possible, among other things, to identify the companies that have generated the most movement through discussions on Twitter, those that have been the subject of particularly abnormal movements, financial influencers, what's being said about certain companies, and what companies to watch before the markets open. 
"With Twitter, we're really talking about massive data. There are over 500 million messages posted online every day," explains Mr. Sanger. "I've developed a collection and processing system to handle information covering all finance-related messages posted on Twitter. The tools I developed make it possible to gather, filter and use this unstructured information. Every day, more than 100,000 messages were collected that referred to companies listed in New York City (NYSE and NASDAQ)."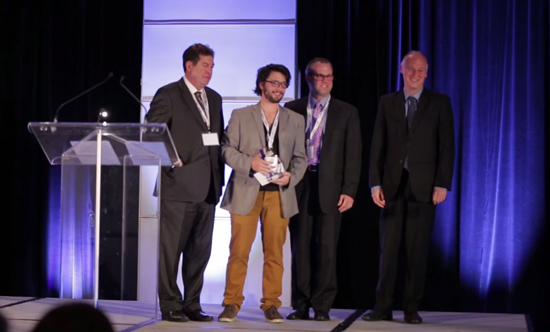 Left to right: Pierre Matuszewski, President, Société Générale Canada; William Sanger, doctoral student at Polytechnique Montréal; Pierre Miron, Executive Vice-President, Operations and Information Technology, Caisse de dépôt et placement du Québec; Éric Lemieux, Chief Executive Officer, Finance Montréal and International Financial Centre of Montréal. 
The Relève universitaire award competitors were evaluated based on innovation and novelty of their technology, its utility and the solution's quality in terms of versatility and commercial potential. The prize is accompanied by a $10,000 bursary from the Caisse de dépôt et placement du Québec.
Last year, Mr. Sanger, in collaboration with Bertrand Nembot and Antoine Troadec, won the Découverte award at the 2013 Fintech Forum with a project whose goal was to demonstrate the possibility of using unstructured data in finance. They developed a monitoring tool for 42 companies that could indicate opportunities for gains or losses based on the number of messages posted to Twitter.
The speakers at the Montréal FinTech Forum included Denis Coderre, Mayor of Montréal; Monique F. Leroux, President and CEO, Mouvement Desjardins; Frank R. Martire, Chairman and CEO, FIS (number-one company in the FinTech 100 rankings established by American Banker, Bank Technology and IDS Financial Insights); Antonio Massanell Lavilla, Vice-President and member of the Board of Directors, CaixaBank (the company that won the World's Most Innovative Bank award in 2011 and 2013 from the Bank Administration Institute); and Kirstine Stewart, Vice-President, North American Media, Twitter.
Finance Montréal, Québec's finance cluster, was created in 2010 by leaders within the financial world at the invitation of the Government of Québec. Finance Montréal brings together banks and financial companies, public administration entities (the Government of Québec, the City of Montréal and the Communauté métropolitaine de Montréal), the Autorité des marchés financiers, and six Québec universities.
Our sincerest congratulations!
See also:
Website for the 2014 Montréal FinTech Forum
Promotional video for the FinTech Montréal 2014 event
Video presented by William Sanger (in French only)