Professor Julien Cohen-Adad edits a book on quantitative magnetic resonance imaging (MRI) of the spinal cord (Publisher: Elsevier)
May 14, 2014
- Source :
NEWS
Quantitative MRI of the Spinal Cord is the first book to focus on quantitative MRI techniques with specific application to the human spinal cord. The book covers techniques such as diffusion-weighted imaging, functional MRI, magnetization transfer imaging and spectroscopy.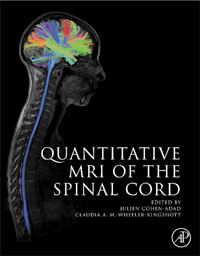 The book introduces the theory behind each technique and presents the various applications for traumatic and neurodegenerative diseases such as multiple sclerosis. These techniques also help the reader understand certain fundamental questions in neuroscience such as pain mechanisms and central nervous system plasticity. Each chapter is authored by international experts in the field of MRI of the spinal cord.
This book, intended for clinicians, radiologists, researchers and biomedical engineers, is designed to help them use the techniques in practice and provide them with the essential theoretical elements on these emerging techniques.  



See also:
Additional information about the book here
NeuroPoly Research Laboratory website
Professor Cohen-Adad's expertise