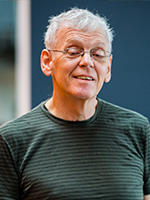 Space-time Reactor Kinetics ● Stochastic calculus ● Nuclear Safety

Jean Koclas is associate professor of engineering physics and a member of the Nuclear Engineering Institute. His research focuses on applications of space-time kinetics to nuclear reactor safety and control.


 
A New approach to nuclear safety
Professor Koclas's work is in the vanguard of current practice in nuclear engineering. He eschews deterministic methods and approaches, focusing instead on novel methods of stochastic analysis, which allow calculations that until recently were beyond the reach of researchers. Specifically, his method seeks to predict the behaviour of large numbers of neutrons under various conditions, as a function of time. His laboratory is a leader in its field.
At the societal level, Professor Koclas's work and expertise are useful for analysis and hypothetical study of nuclear accidents. He has collaborated with several regulatory and research organizations, including MIT, the Commissariat à l'énergie atomique (France's atomic energy commission), Électricité de France, and Canadian Nuclear Laboratories, as well as private firms such as AMEC.
Expertise sought after for nuclear power plants worldwide and future research
Professor Koclas's laboratory provides consulting services and trains nuclear engineering specialists who go on to work as consultants (Canadian Nuclear Safety Commission), laboratory personnel, and university faculty members.