Writing retreat, day 2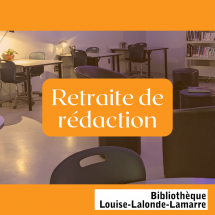 For the first time ever, the Library will be holding a three-day Intensive Community Writing retreat during reading week! This retreat has been created to allow the graduate student community to take advantage of this quieter time on campus to get a jump on their master's/doctoral projects.
What to expect?
Increased motivation and productivity;
Connect with peers/break isolation;
Learn and apply techniques for optimizing your writing time. Presentation by librarians. Time management monitored by Library staff;
On-site support for all your questions;
Focus-friendly writing space just for you at the Library;
Coffee, tea, and snacks provided by the Library and your student association!
How to participate
Registration is mandatory. Limit of 15 people per day.
Go to the Library's calendar and register for each day you wish to participate. It is possible to participate without registering for all three days.